** Please Note: This is an independent website devoted to providing both current and historical information about the AAABA tournament. All Official AAABA business and related inquiries should be directed to the official AAABA site **
Congratulations to the 2016
Zanesville Junior Pioneers
on their First AAABA Championship!
---
Photo courtesy of Brian Varmecky - www.aaabatournament.com
Congratulations to the following 2016 Award Winners
| | |
| --- | --- |
| National Runner-Up | Johnstown Paul Carpenter Capitol |
| Sportsmanship Award | Buffalo Leibs |
| MVP | Dyson Bowman - Zanesville |
| Batting Champion | Alex Whipple - Buffalo |
Check out our ALL NEW MLB Alumni page featuring a full list and photo gallery of every former AAABA Player that has advanced to play Major League Baseball. click the link below:
---
This site is dedicated to preserving the history and tradition of AAABA Baseball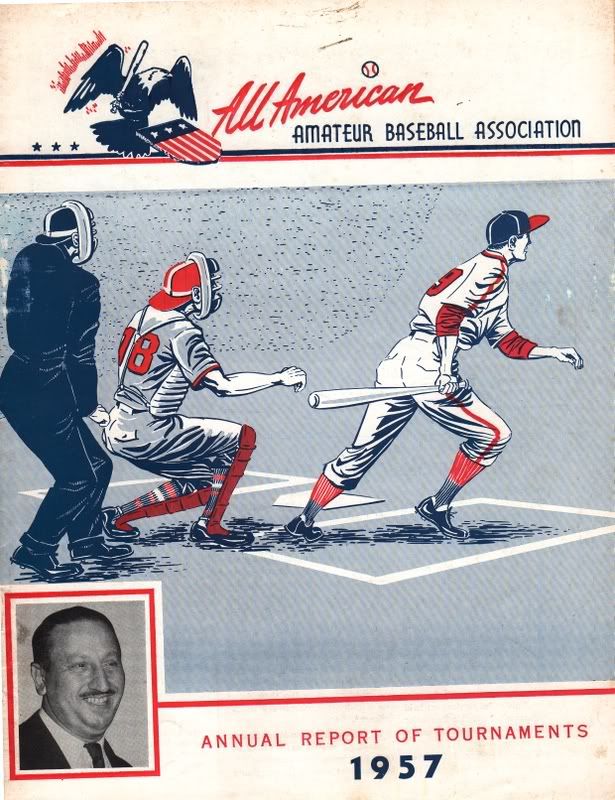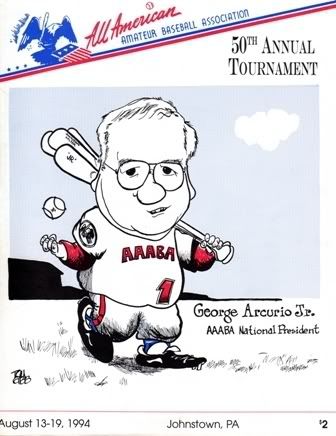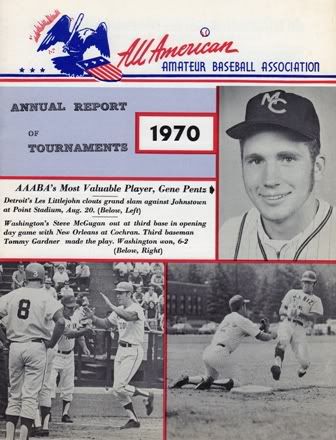 The city of Johnstown welcomes you to one of the finest amateur baseball tournaments in the country. Every August, Johnstown transforms into a baseball lovers paradise hosting numerous games from morning to night, every day throughout the week. Johnstown, Pennsylvania has played host to the event for over 70 years and in 1993 was voted the permanent home of the tournament. Johnstown is a special place to be in August... the smell of popcorn and hot dogs fill the air, fathers and sons talking baseball, the crack of the wooden bat, the roar of the crowd, and the booming sounds of cannons firing from the nearby hillside when the home team scores.
There is something special about the atmosphere – its old time baseball at its best. No big dollar contracts or egos here, just kids playing for the love of the game, hustling on every ground ball, and carrying the dream of someday wearing a major league uniform. Its this special atmosphere that has kept fans coming back for generations, not to mention the extraordinary level of talent. Although no official tally exists, over 400 former AAABA players have gone on to play in the major leagues with hundreds of others advancing to the professional level. Reggie Jackson, Al Kaline, Steve Garvey, Barry Larkin, Joe Torre, John Smoltz, and Orel Hershiser are just a few of the outstanding players that have passed through the AAABA tournament.
2014 OPENING NIGHT
2008 OPENING NIGHT - A RAINBOW HANGS OVER POINT STADIUM
2007 OPENING NIGHT CROWD
---
AAABA Quick Facts
Over 400 former AAABA players have advanced to Major League Baseball
60 AAABA players have been Major League All Stars
5 AAABA players have been elected to the Major League Baseball Hall of Fame (R. Jackson, J. Smoltz, A. Kaline, B. Larkin, J. Torre)
5 AAABA players have been named an MLB MVP (B. Larkin, S. Garvey, K. Griffey Jr, J. Torre, R. Jackson)
5 AAABA players have won the Cy Young Award (P. Vuckovich, S. Lyle, O. Hershiser, B. Welch, J. Smoltz)
5 AAABA players have been named MLB's Rookie of the Year (J. Matlack, W. Weiss, M. Fydrich, T. Sizemore, C. Sabo)
7 AAABA players have been named MLB's Manager of the Year (B. Showalter, J. Torre, J. Tracy, T. Kelly, J. McKeon, B. Bochy, B. Rodgers)
*The Washington DC, Baltimore, and Detroit franchises have each sent over 60 players to the Major Leagues
*Baltimore has played in 35 championship games and have won 29 AAABA titles, by far the most of any franchise
*Baltimore won a record 6th straight tournament with their 2008 championship
*Host Team Johnstown has participated in every tournemant and has never won the championship
*29 Baltimore players have been named the AAABA MVP
*Roger Bowman's AAABA Tournament Strike-Out Record of 71 in 27 1/3 innings in 1945 may be one of the most impressive pitching performances of all time and will likely never be broken. Bowman recorded 24 strike outs in one game twice. The next closest to Bowman is 36 K's held by three individuals.
*Mike Bradley of Chicago posted an amazing .739 batting average in 1989, going an amazing 17 of 23. (tournament record - min. 20 at-bats)
*At Least seven former AAABA players have went on to successful careers in the National Football League: Joe Theismann (New Brunswick) - Washington Redskins, Jeff Hostetler (Johnstown) - NY Giants, John Stofa (Johnstown) - Miami Dolphins, Paul Martha (Pittsburgh) - Pittsburgh Steelers, Tom Yewcic (Johnstown) - Boston Patriots, Tom Brown (Washington DC) - Green Bay Packers, and Todd Krumm (Livonia) - Chicago Bears.
*The New Orleans NORD Boosters won the 1984 AAABA chanmpionship fueled by a pitching staff of four future major league players: Wally Whitehurst (Mets), Kevin Mmahat (Yankees), Kirk Bullinger (Expos), Jim Bullinger (Cubs).
---